Origin Access Basic w gigantycznej promocji – żal nie brać!
Kolejna z dużych platform, gdzie można korzystać z subskrypcji i cieszyć się dostępem do gier, postanowiła wyjść naprzeciw oczekiwaniom swoich klientów. W ciągu kilku najbliższych dni będzie można bowiem wykupić dostęp do Origin Access Basic w wyjątkowo niskiej cenie. Wprawdzie tylko na pierwszy miesiąc, ale to wystarczający okres czasu, by wiedzieć, czy opłaca się płacić abonament dalej.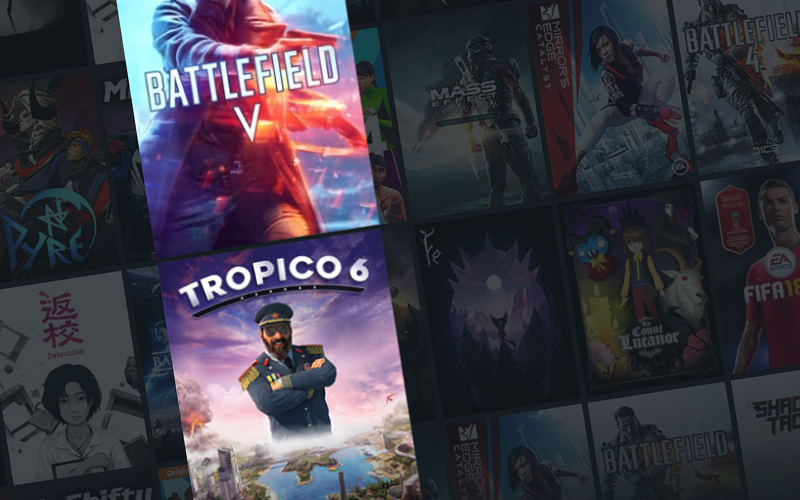 Platforma od Origin to jeszcze zupełna nowość, bo na rynku jest zaledwie od kilku miesięcy, a teraz jeszcze bardziej będzie opłacało się nią zainteresować. Bowiem od dziś, do 16 grudnia, za miesięczny dostęp do platformy, trzeba zapłacić jedynie 3,99 złotych. Po tym czasie trzeba będzie już płacić 14,90 złotych, więc jeżeli ktoś ma ochotę wypróbować Origin, to chyba nie ma lepszego na to czasu, niż właśnie teraz.
Origin Access Basic
Dostęp do Origin Access Basic w takiej cenie, daje dostęp do ponad 230 tytułów, które skierowane są na platformę PC. Oczywiście nie wszystkie produkcje to typowe nowości, ale da się znaleźć na liście całkiem sporo interesujących tytułów, jak chociażby serię z Batmanem w roli głównej. Do tego Origin Access Basic oferuje możliwość sprawdzenia premierowego tytułu przez 10 godzin na kilka dni przed premierą, więc warto sprawdzić na własnej skórze, jak to wygląda. Poniżej znajdziecie listę gier, które znajdują się w Origin Access Basic. I radzimy się pośpieszyć, bo tańszy dostęp jest tylko do 16 grudnia tego roku.
Lista gier w Origin Access Basic
A Way Out
Abzû
Alwa's Awakening
Anthem
Apotheon
Aragami
Batman: Arkham Asylum
Batman: Arkham City
Batman: Arkham Origins
Battlefield 1
Battlefield 3
Battlefield 4
Battlefield Hardline
Battlefield V
Beholder
Beholder 2
Blackguards
Blackguards 2
Bomber Crew
Brothers: A Tale of Two Sons
Bulletstorm: Full Clip Edition
Burnout Paradise Remastered
Chaos on Deponia
Cities: Skylines
Command & Conquer
Command & Conquer 3: Tiberium Wars
Command & Conquer 4: Tiberian Twilight
Command & Conquer: Generals
Command & Conquer: Red Alert
Command & Conquer: Red Alert 2
Command & Conquer: Red Alert 3
Command & Conquer: Red Alert 3 – Uprising
Command & Conquer: Renegade
Command & Conquer: Tiberian Sun
Cosmic Star Heroine
Crashlands
Crawl
Crusader: No Regret
Crusader: No Remorse
Cryptark
Crysis
Crysis 2
Crysis 3
Darksiders Warmastered Edition
Dead Cells
Dead Space
Dead Space 2
Dead Space 3
Dead in Vinland
Dear Esther: Landmark Edition
Deponia
Deponia Doomsday
Detention
Diluvion
Dragon Age II
Dragon Age: Inquisition
Dragon Age: Origins
Dungeon Keeper
Dungeon Keeper 2
Dungeons 3
Dungeons of Dredmor
Duskers
Ember
Epistory – Typing Chronicles
Europa Universalis III
FIFA 15
FIFA 16
FIFA 17
FIFA 18
FIFA 19
FTL: Faster Than Light
Fe
Figment
For the King
Fran Bow
Frostpunk
Furi
Ghost 1.0
Ghost of a Tale
Gone Home
Gonner
Goodbye Deponia
Hacknet
Halcyon 6: Lightspeed Edition
Hand of Fate
Hearts of Iron III
Home Behind
Hover (2017)
Hue
Hyper Light Drifter
Inside
Into the Breach
Jade Empire: Special Edition
Jotun
Judgment
Ken Follett's The Pillars of the Earth
Kingdom: New Lands
Knights of Pen and Paper +1 Edition
Lego Batman 2: DC Super Heroes
Lego Batman 3: Beyond Gotham
Lego Batman: The Videogame
Lego Star Wars III: The Clone Wars
Lego Star Wars: The Complete Saga
Limbo
Lost Castle
Mad Games Tycoon
Mad Max
Madden NFL 19
Mass Effect
Mass Effect 2
Mass Effect 3
Mass Effect: Andromeda
Medal of Honor: Allied Assault
Mini Metro
Mirror's Edge
Mirror's Edge Catalyst
Moonlighter
Mr. Shifty
Mugsters
Need for Speed (2016)
Need for Speed Payback
Need for Speed Rivals
Need for Speed: Most Wanted (2012)
Nex Machina
Opus Magnum
Orwell: Ignorance is Strength
Out of the Park Baseball 19
Out of the Park Baseball 20
Overcooked
Oxenfree
Peggle
Pillars of Eternity
Plants vs. Zombies
Plants vs. Zombies: Garden Warfare
Plants vs. Zombies: Garden Warfare 2
Pony Island
Populous
Populous II: Trials of the Olympian Gods
Prison Architect
Project Highrise
Punch Club
Pyre
Rebel Galaxy
Renowned Explorers: International Society
Rime
Samorost 3
Seasons after Fall
Shadow Tactics: Blades of the Shogun
Shantae: Half-Genie Hero
Shenzhen I/O
Shift Quantum
Shio
SimCity (2013)
SimCity 2000
SimCity 4
Sinner: Sacrifice for Redemption
Slay the Spire
Slime-san
Snake Pass
Splasher
Spore
Star Wars Battlefront (2015)
Star Wars Battlefront II (2017)
Star Wars: Battlefront
Star Wars: Battlefront II
Star Wars: Dark Forces
Star Wars: Empire at War
Star Wars: Episode I – Racer
Star Wars: Galactic Battlegrounds
Star Wars: Jedi Knight – Dark Forces II
Star Wars: Jedi Knight – Jedi Academy
Star Wars: Jedi Knight – Mysteries of the Sith
Star Wars: Jedi Knight II – Jedi Outcast
Star Wars: Knights of the Old Republic
Star Wars: Knights of the Old Republic II – The Sith Lords
Star Wars: Rebel Assault
Star Wars: Rebel Assault II: The Hidden Empire
Star Wars: Rebellion
Star Wars: Republic Commando
Star Wars: Rogue Squadron 3D
Star Wars: Shadows of the Empire
Star Wars: Starfighter
Star Wars: TIE Fighter
Star Wars: The Force Unleashed
Star Wars: The Force Unleashed II
Star Wars: X-Wing
Star Wars: X-Wing Alliance
Star Wars: X-Wing vs. TIE Fighter
Stealth Bastard Deluxe
Stealth Inc. 2: A Game of Clones
Sudden Strike 4
Sundered
Superhot
Tacoma
Tharsis
The Banner Saga
The Bard's Tale Trilogy
The Book of Unwritten Tales
The Book of Unwritten Tales 2
The Count Lucanor
The Escapists
The Escapists 2
The Flame in the Flood
The Guest
The Invisible Hours
The Lego Movie Videogame
The Saboteur
The Sexy Brutale
The Sims 3
The Sims 4
The Solus Project
The Surge
The Witness
They Are Billions
This Is the Police
This War of Mine
Titanfall
Titanfall 2
Torchlight II
Torment: Tides of Numenera
Trine 2
Trine Enchanted Edition
Tropico 5
Turmoil
Tyranny
Ultima I: The First Age of Darkness
Ultima II: The Revenge of the Enchantress
Ultima III: Exodus
Ultima IV: Quest of the Avatar
Ultima IX: Ascension
Ultima V: Warriors of Destiny
Ultima VI: The False Prophet
Ultima VII Part Two: Serpent Isle
Ultima VII: The Black Gate
Ultima VIII: Pagan
Ultimate Chicken Horse
Unravel
Unravel Two
Vambrace: Cold Soul
Vampyr
Victoria: An Empire Under the Sun
Virginia
Wing Commander
Wing Commander II: Vengeance of the Kilrathi
Wing Commander III: Heart of the Tiger
Wing Commander IV: The Price of Freedom
Wing Commander: Privateer
Wuppo
Yoku's Island Express
Yooka-Laylee
Nowe gry na PC-ty oraz same komputery do grania, znajdziecie w naszym sklepie internetowym, wchodząc pod ten adres.
Źródło: Origin Acces / Opracowanie własne